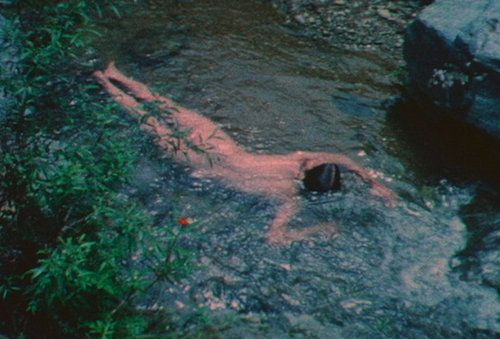 ANA MENDIETA – SHE GOT LOVE
EXHIBITION RUNS JANUARY 30 – MAY 5
Castello di Rivoli Museo d'Arte Contemporanea
Piazza Mafalda di Savoia
10098 Rivoli – Torino
www.CastelloDiRivoli.org
Ana Mendieta. She Got Love, is a large-scale European retrospective devoted to the Cuban-born American artist Ana Mendieta (1948–1985). The exhibition will open on January 30, 2013 in the evocative spaces of the Manica Lunga. The project, curated by Beatrice Merz and Olga Gambari, aims to retrace the artist as a pioneer of performance, video, body art, photography, land art, and sculpture in the twentieth century. One of Mendieta's unique contributions is a synthesis of these forms into a fresh, visual language which has influenced a generation of younger artists. In more than one hundred of Mendieta's works produced between 1972 and 1985, the exhibition presents her extremely personal vocabulary that combines the visionary and material, magical and poetic, and political and progressive. Mendieta's identity as a female informed her work as an artist, beginning with her childhood cultural roots in Cuba to her development as an iconic female artist in the United States. She addressed issues such as individual existence, life and death, violence, love, sex, re-birth, and exile in a coherent manner that is transcendent towards the universal and spiritual. Often inserting her body in nature, Mendieta worked in different environments from Cuba to the United States to Italy, investigating both personal and collective origins. A recurrent distinctive sign in all her works is a typical feminine silhouette or "siluetta", an essential self-portrait created from earth, mud, feathers, flowers, leaves, ash, gunpowder, branches, shells, grass, ice, rock, wax, moss, sand, blood, water, and fire. These hybrid forms of performance, site-specific sculpture, and documentation express her desire to reunite with an eternal and universal cosmic energy where the human, the natural, and the divine component coexist.
Each of her performances are presented as a profound and enveloping environment described through video, sketches, photographs, and notes, providing both mental and physical access to the original location of the work. The exhibition's title, She Got Love, is derived from one of Mendieta's film works in which the artist scrawls the words in blood red across a white door. It is among the many films in the artist's oeuvre, a selection of which will be highlighted in the exhibition.
The exhaustive catalogue, published by Skira in conjunction with the retrospective at Castello di Rivoli, includes texts by the curators, a bio-bibliographical section, and a wide selection of images, a number which have not been previously reproduced.
The exhibition corresponds with the occasion of the world premiere of Itali-ana, Mendieta in Rome, a documentary on Mendieta's artistic development during her years in residence at the American Academy in Rome, Italy. The film is produced by Corazon Pictures and directed by Raquel Cecilia Mendieta. This documentary film will be screened throughout the exhibition.