XXXX MAGAZINE CONTRIBUTING ART EDITOR HEIDI LEE PRESENTS A ROUND-UP OF HER WEEK AT ARTBASEL 41
ARTBASEL MARKET REVIEW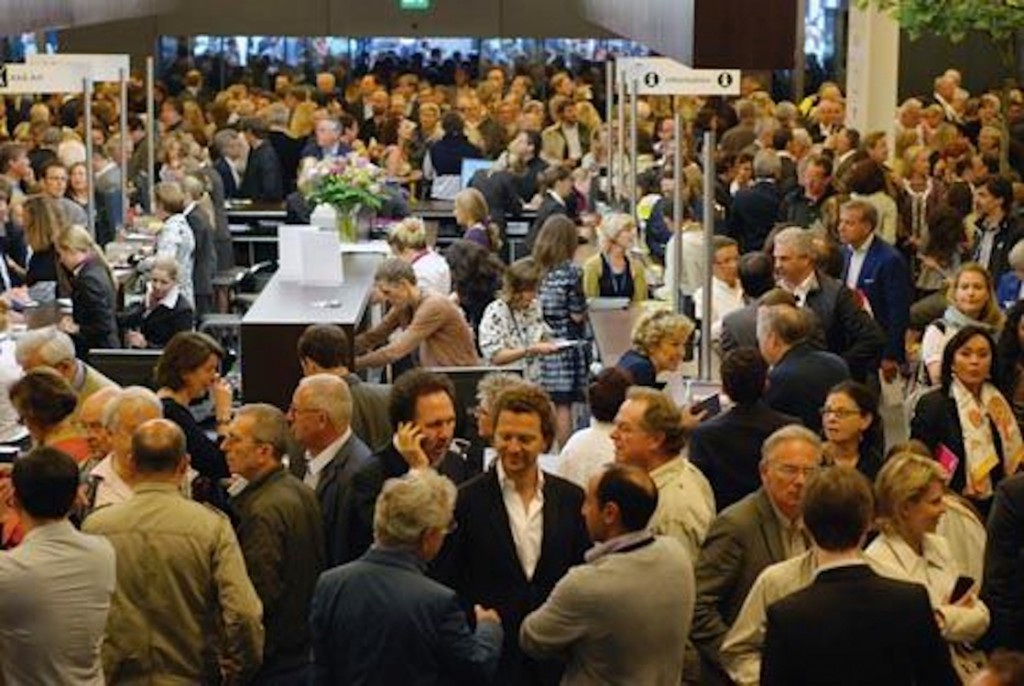 OPENING DAY AT ART BASEL 41
As I practiced the customary three kiss greeting with Swiss colleagues, I toured around ArtBasel's 41st edition of the world's more important art fair this past June featuring 300 leading galleries and works by over 2,500 artists. If the mood at ArtBasel Miami Beach in December was tepid and apprehensive, than ArtBasel41 this June was upbeat and confident with strong results marking a successful fair in terms of quality. Neil Wenman of White Cube Gallery in London said "this year ranks as one of our best performances in Basel."
Swift sales on the opening day showed how remarkably resilient the art market is. Choice works sold to heavy hitting collectors from China, Russia and Greece at top prices. Many galleries sold their top lots which included a monumentalCecily Brown painting at Contemporary Arts Berlin for $850,000 USD, a Barbara Kruger for $700,000 at Skarstedt and a Richard Prince at Gagosian for $4.2m.
Depsite the exuberance however, some art commentators said they felt that Europeans were not as bullish as the Americans collectors perhaps due to the recession and recent depreciation of the Euro. Some were still not deterred though and a European snatched up Takashi Murakami's Yume Lion for $1.4m.
The contemporary art auctions also reported strong sales despite thinner pickings. Sotheby's had only 44 lots but total sales reached $62m USD which included Yves Klein's RE49 that sold for $6.2m GBP. Again, quality was king.
TALK ABOUT ARTBASEL: ArtSalon and Conversations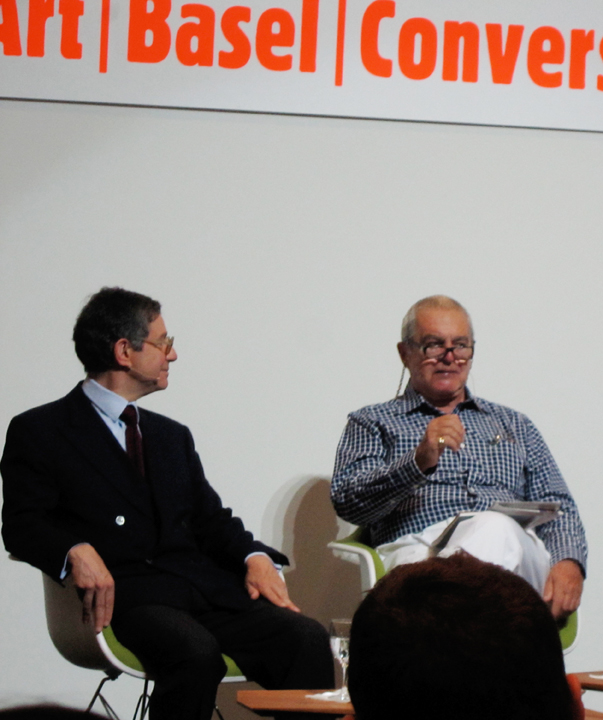 JEFFREY DEITCH AND IRVING BLUM
Co-director of ArtBasel, Marc Spiegler said, "ArtBasel is like a create-your-own-adventure game". You can go for a variety of reasons: meet fellow art lovers, observe experimental performances, engage in intellectual conversations, or cull out priceless objects to add to a collection. My game was a combination of all of the above and I was happy to discover many new works by young artists like Swedish artist Cecilia Edefalk, British sculptor Anthony James, and American sculptor Oscar Tuazon.
Away from the glitz and glamor, one of the biggest attractions for me was ArtSalon, a dense program of talks, panels and other presentations by international art world figures. Famed mega dealers, Irving Blum and Jeffrey Deitch held a captive audience talking about the early days of modernism in Los Angeles and New York back in the 1950 and 1960s. They shared their incredible personal experiences with legendary artists, dealers and collectors of their time which included Ed Ruscha, Billy Al Bengston, Ivan Karp, and Riko Mizuno. Peter Plagen's remark "it is Irving's history, we just live in it" rang true as a bell.
The art world back then used to be a quaint community with only four or five main collectors and dealers interacting with a small artist cooperative. Everyone knew each other and artists discussed the meaning of art and life into the wee hours of the night, some nights under many influences. Today, that distinctive feeling of community still exists though it is rare. For the most part, artists don't seem to take themselves as seriously and the dealers are no longer at the epicenter. Many disgruntled dealers are feeling the affects of that, including Blum who said the biggest mistake museums make is dismiss dealers in favor of art collectors. He said, "dealers are sidelined and not referred to at all. Museums don't call and [this] happens to ALL dealers. It's monstrous!"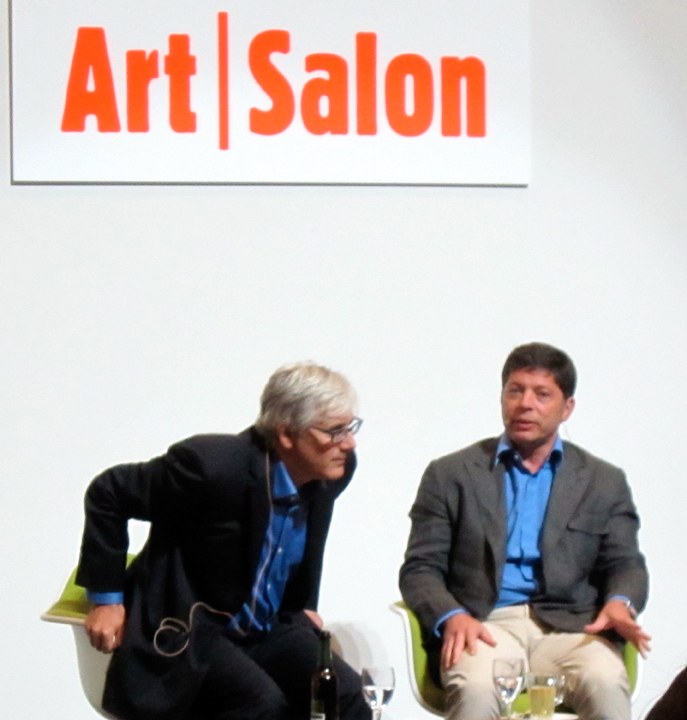 JOSH BAER AND ADAM LINDEMAN
Providing further proof that collectors hold the power, art collector/author Adam Lindeman and journalist Josh Baer discussed how collectors actually harness and use their power. According to Lindeman, there are two types of collectors: market makers and trophy collectors. The market markers are those who have the ability to influence the market and build artists' markets and therefore are the ones with the power. If a "market maker" collector like the Eli Broad, François Pinault or Charles Saatchi buys a certain artist, we are likely to see a museum show in the near future with that artist, followed by major gallery representation. So we see why museums are referring to collectors rather than dealers. The power play is predictable and the art world of the 1950s is a bygone era.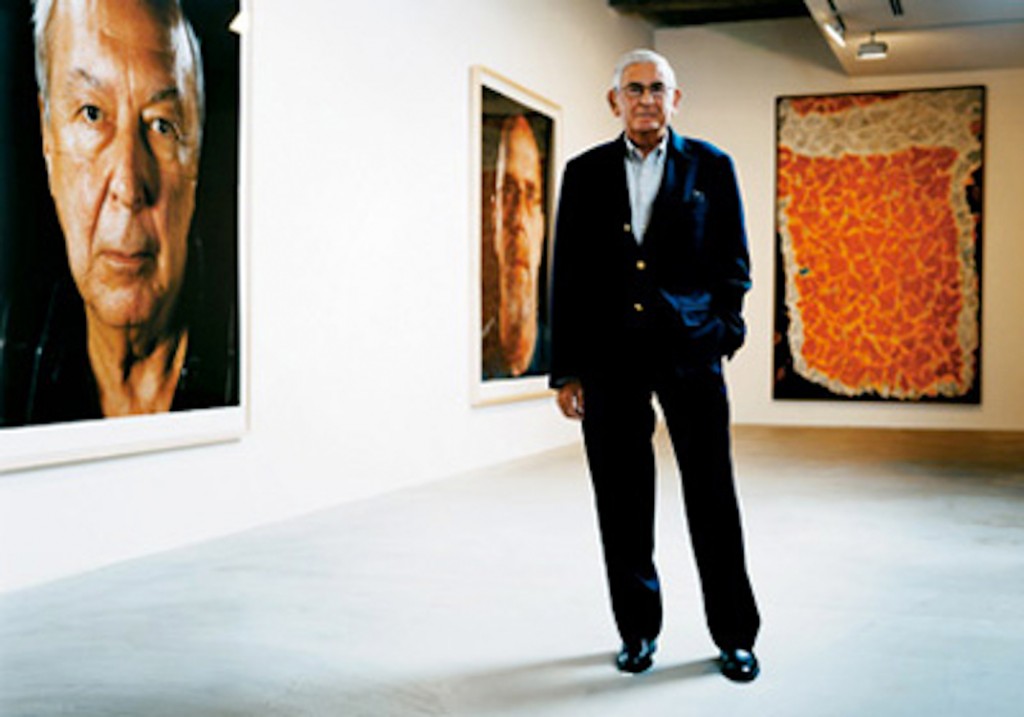 ELI BROAD
Eli Broad is arguably the living embodiment of collector power and influence. He owns one of world's most important art collections of Contemporary art, serves on the board of the LA MOCA, owns the LACMA and has plans to open his own museum soon. Museums and galleries closely watch the artists he buys. He represents the hybrid breed of collector/patron and fellow board members call him a "venture philanthropist." In 2009, Broad saved the LA MOCA by making a $30m donation with a matching grant but with specific claims of his own. Some people at the museum level viewed it as a pact with the devil but deaccessing their $80m Rothko was not an option.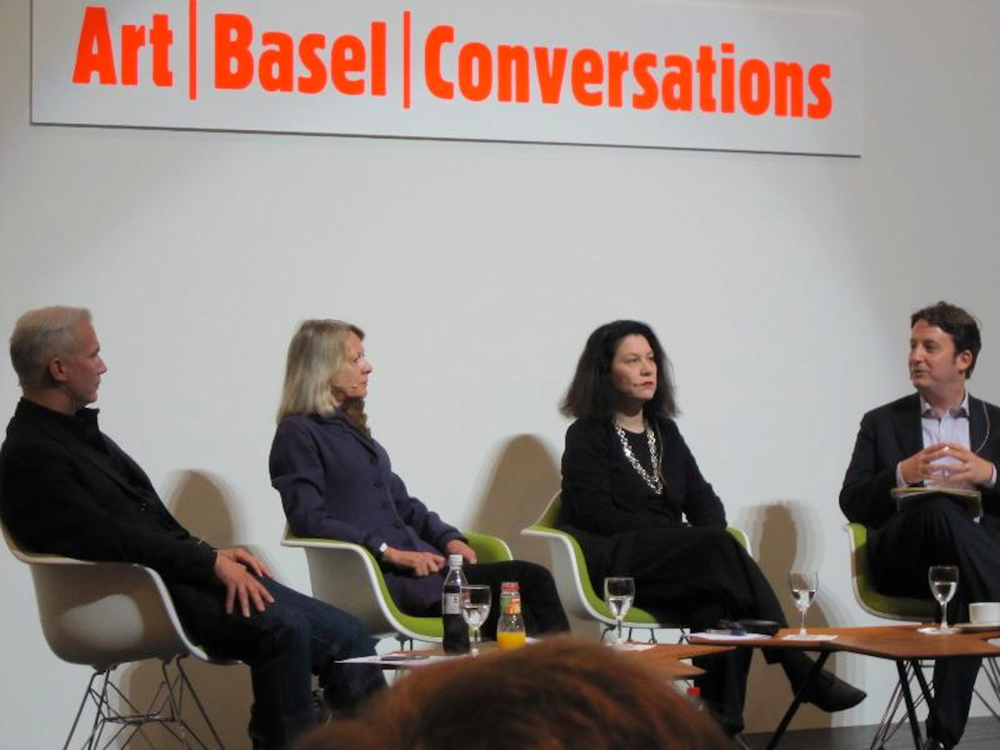 Klaus Biesenbach, Lynne Cooke, Ann Goldstein and András Szántó
Speaking of museums behaving in unconventional ways, Hungarian arts journalist András Szántó's found out that European museums are becoming more "American" in their funding policies and adopting private funding strategies to survive economic hardship. Internationally renowned museum curators Lynne Cooke from the Reina Sofía and Ann Goldstein from the upcoming Stedelijk Museum in Amsterdam both agreed that their institutions are less reliant on public funding now and more open to receiving private donations. Lynne Cooke said "museums everywhere must obey multiple masters." Maybe Eli Broad has started a trend…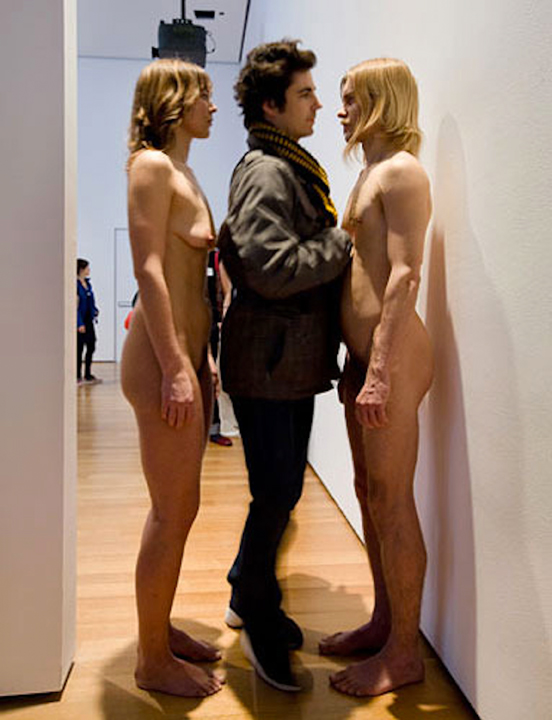 Marina Abramovic performance at MoMA, May 2010
With global culture getting smaller and more unified, European and American institutions are indeed learning to rely on each other to exchange ideas and meld policies. However, there are still strong local traditions that museums must keep in mind. Szántó cautioned that "although globalization is erasing some differences, underneath the surface, culture stubbornly asserts itself." International art standards still have to respect local customs especially when it comes to developing local exhibitions.Klaus Biesenbach poked fun at the Americans saying that art is still difficult to them and they they view art as something "subversive, suspect and even dangerous." He said "the mayor of New York would never walk between the two nude performers," referencing to Marina Abramovic's epic performance at the MoMA that closed in May. Contrast that with the photography exhibition that depicted people having outdoor sex in the 1970s at the Reina Sofía in Spain. It never caused a stir.
In Europe, Biesenbach continued, "there is a consensus that art is truth." But although the nudity at the MoMA may have caused an outrage when Barbara Walters lambasted it, the media hype died down quickly. It is evident that America is learning from its European neighbor in this respect and becoming a freer, more tolerant society.
—
For more information on Heidi Lee:
Contact heidi@heidileeartadvisory.com