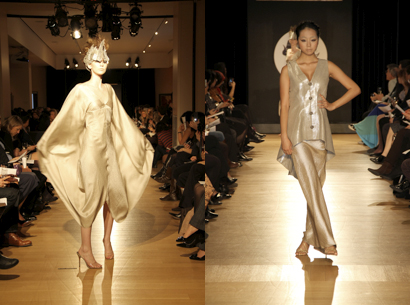 On April 19th, 2011 The Embassy of Indonesia together with the Indonesian Investment board presented a gala dinner at the Ballroom of the Hotel Intercontinental on Park Lane, London. the evening was a celebration of Indonesian culture, with traditional music performances and dancing as well as a presentation of some of Indonesia's rising stars of fashion. After some rising speeches by the Indonesian Ambassador of the UK as well as Prince Andrew, who took the stand to talk about Indonesia's opportunities and future, fashion designers Auguste Soesatro and Didi Budiardjo presented their collections, while guests sat down to a gala dinner, with traditional Indonesian cuisine.
Kraton Auguste Soesastro is a New York based Fashion House established in 2008. All garments are manufactured in New York City, under direct supervision to ensure quality control. Kraton originates from the Javanese word meaning palace, a union of skilled artisans and labor of love. Kraton aspires to promote the best of aspect of Indonesia's culture and high arts to the international fashion world, to ensure the survival of its unique heritage for generations to come. The major source of inspiration for the Kraton collections, come from the designer's love for his heritage, the arts and culture of Indonesia. Kraton specializes in high-end luxury garments, crafted to perfection, incorporating superb tailoring techniques, unique designs and the best available materials. Designer Auguste Soesastro was born in Jakarta, to Dutch Indonesian parents of Javanese, Chinese and Arabic heritage. From a very young age, he has lived and traveled through different countries, allowing the influences of each place to broaden his horizons in world culture and arts.
The collection Didi Budiardjo presented was themed after "Ancestral Heirlooms", and "the imperial mystique of the thousand islands". Fabrics were mainly silk and cotton with patchwork of woven fabrics, materials and colours. The collection featured hand woven textiles from Sambas-West Borneo, Padang,West Sumatra, Bali, Lombok and Palembang. For the designer, "weaving has become an activity as well as an art, a practical and a way of seeing in which both the ordinary and the extraordinary are shown to their full effect through a spontaneous or planned act of juxtaposition." Harper's Bazaar Indonesia has featured Didi Budiardjo as "one of the best designers of Indonesia."
After the fashion show, guests were treated to a lesson in Indonesian Music, led by their head conductor, who taught the admiring audience in less the 15 minutes how to play their traditional instruments.