K48 Magazine Celebrates its 8th Issue With Hipsters and Spandex on Orchard Street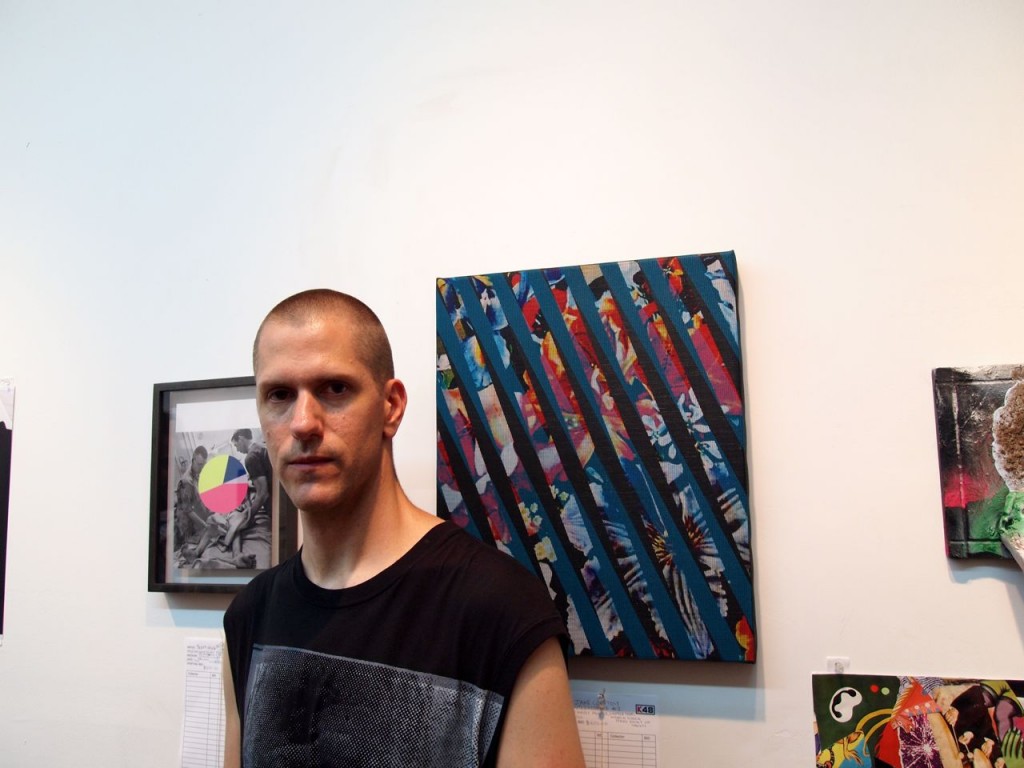 Scotty Hug
When Scotty Hug called his K48 Magazine party a "time capsule of New York this year", he was right.
Last Tuesday, the magazine celebrated its eighth issue, Special Kat, in the Nichelle Beauchene Gallery on Orchard street with a silent auction that drew in a crowd almost as ironic as the artwork thumb tacked to the walls.
According to Mr. Hug, who curates the annual benefit, every year "the artists submit a small piece. We all raise money together."
"The fundraiser", said Mr. Hug, "is for the artist, by the artists, and a little bit of help from me."
Fifty-five artists contributed their work to the show this year, including Mr. Hug himself, who displayed paintings.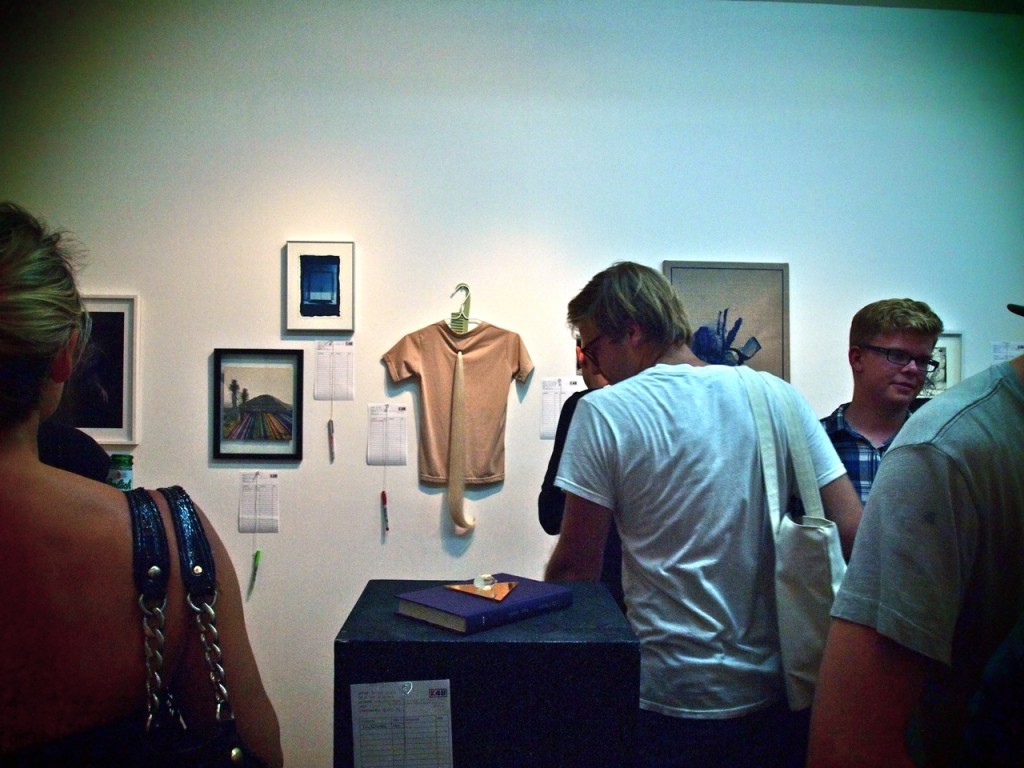 Around the room, most of the art (or anti-art) had a sort of urban edge, or guerilla-like quality. Sharpie pens hung from the center of each piece, in case anyone wanted to bid.
Some work hung from the walls, other work was more structural, some of the work was thicker in texture, and some of it walked.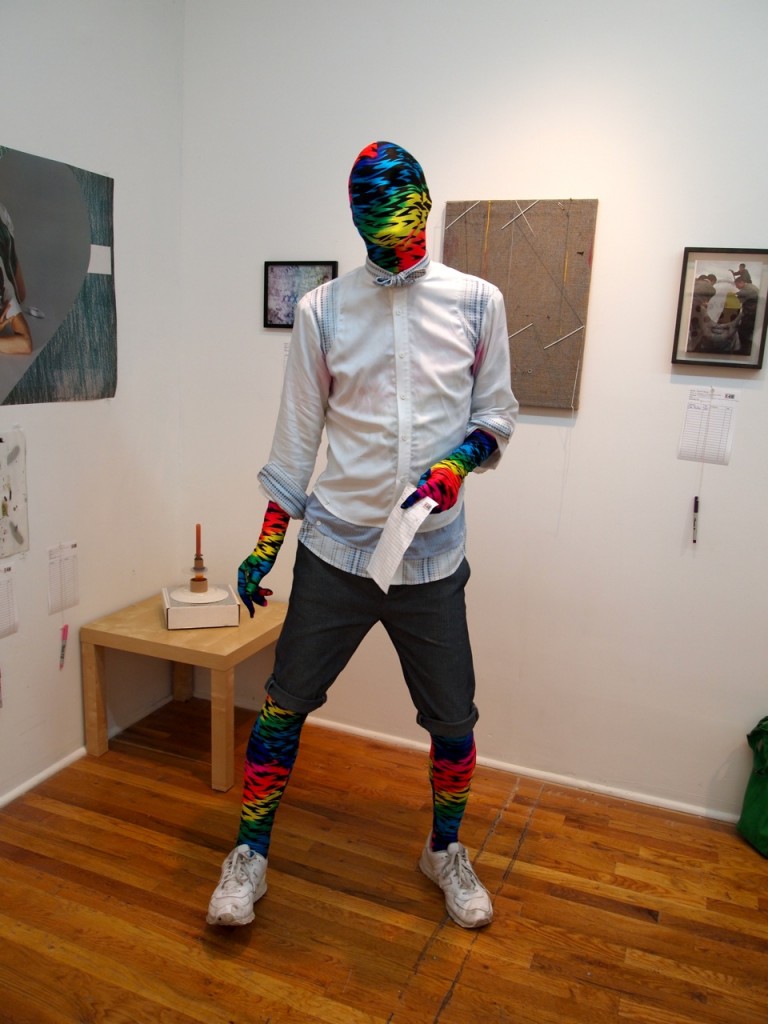 Take, for example, the man with a spandex face, who wandered the room in a full body suit patterned by neon ridges of blue, green, yellow, and hot pink by Designer Petrou.
Every now and then you'd overhear the realization, "Oh my god! He is the artwork."
The neon stocking man was not the only artwork standing out in the center of the gallery. Just past the entrance there sat an upright black Stanislavsky-like set piece, which like a side table supported the unjacketed version of Patti Smith's "Just Kids."On top of the book, a flat yellow triangle, held up a small, clear crystal. There was something poetic about this piece, which had been created by the set designer and artist Anne Koch, who recently showed her work at the Tate Modern in London.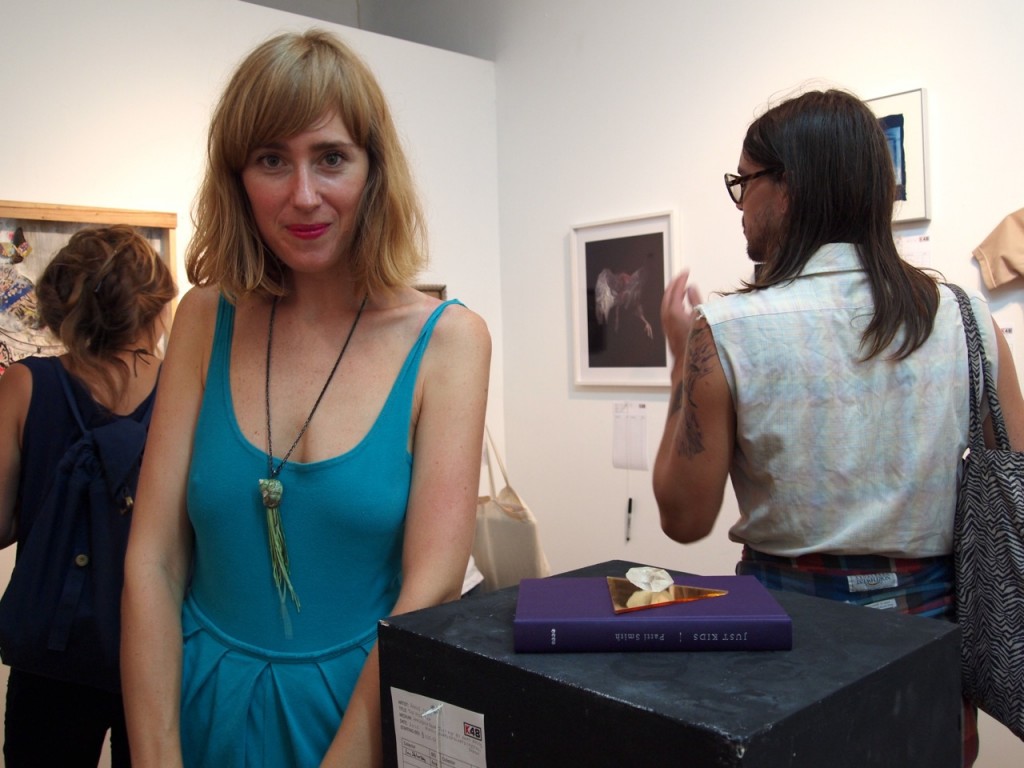 Ms. Koch attended the event in an electric blue jumpsuit with a matching bag, explaining that her participation in K48 Magazine is "all about the fun."
"People have stopped having fun with art," said Ms. Koch. "They're thinking too much."
Outside of the gallery, hipsters and other such asymmetrical haircut types gathered for a smoke or a seat on the sidewalk.
"Let's just have fun with the Art!" said Ms. Koch.
—
Rena Silverman for XXXX Magazine