Robert Fontaine Gallery presents Nick Gentry: Opening Reception August 25, 2011, Miami, FL
Opening its doors in February 2011 in Miami's Wynwood Art District, the Robert Fontaine Gallery offers a unique selection of internationally established and emerging artists, centered around genres of Pop Art, Urban/Street Art (translated into portable edition format), and contemporary photography. The Robert Fontaine Gallery, in its mission to provide viewers with an engaging, vibrant contemporary program throughout the year, is pleased to announce the first solo exhibition in the US of British artist Nick Gentry.
Gentry adopts an approach to contemporary portraiture in the guise of photo-mosaic, in particular, using outdated or dissolved technological methods or objects. As a generation of young artists are stepping into the realm of ephemeral, mobile digital technology, individual elements such as VHS an cassette tapes, floppy disks and Polaroids become not only obsolete machinery, but memory triggers in and of themselves during their period of birth and subsequent death. This inaugural US solo exhibition will display Gentry's contribution to contemporary art which comments on the rampant, irreversible path of human progression in dialogue with the life cycles of innovation.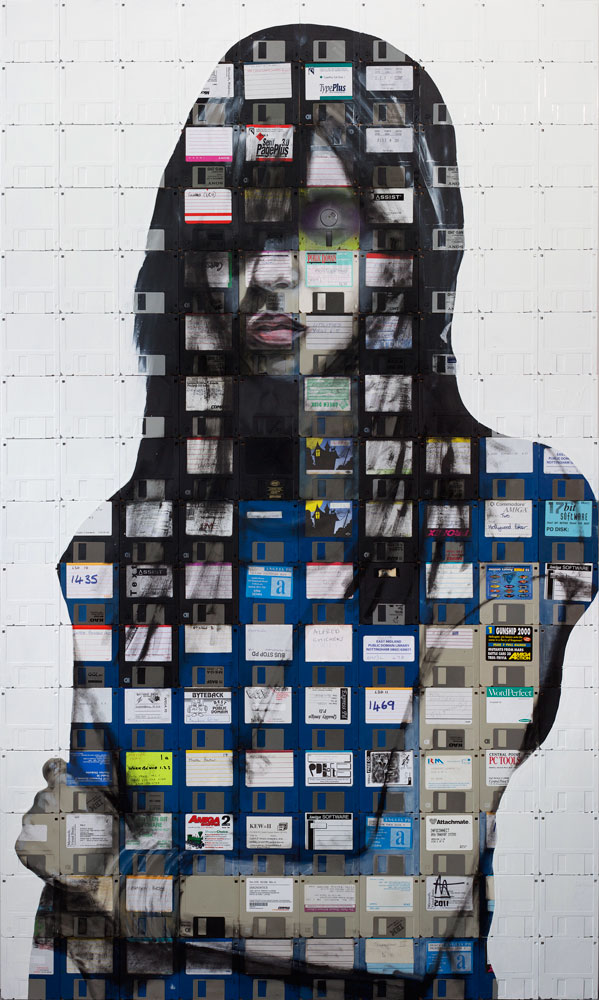 Nick Gentry 'Body Language' (2011) Mixed paint and used computer disks on wood, 150 x 90 cm
At its core, Gentry's work is a subtly aggressive inquiry into the technology leviathan: what happens to the people in the process of invention? The melancholy snapshots of Generation X act as a bridge between those faded personalities who had laid the foundations of present-day technology and the new consumers who may know of those antiquated objects only by rumor or a convenient browse on Wikipedia.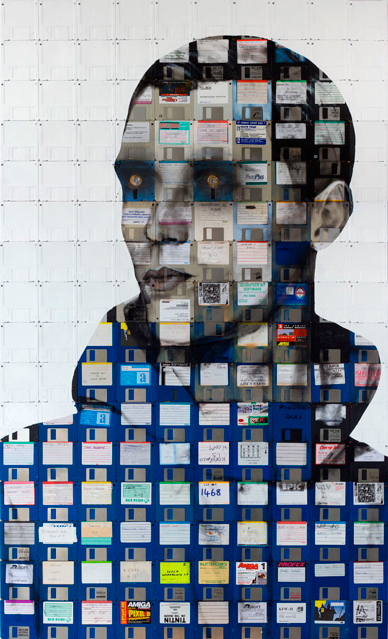 'Base Jumper' (2011) Mixed paint, used computer disks on wood, 150 x 90 cm
Gentry is a graduate of Central St. Martins in London. Notable exhibition venues include Art Paris, Verge Art Fair (Miami) and appearances at Bonham's and Dreweatt's Urban Art Auctions in London. International press for Gentry has included the Mirror, the Huffington Post, La Repubblica, Juxtapoz Magazine, Wired Magazine and the Wooster Collective. Gentry lives and works in London. Invicta Watch Group (having commissioned an exclusive model designed by Gentry) and Ocean Drive Magazine will act as sponsors for Gentry's opening reception to kick off the contemporary art season in Miami.
The Robert Fontaine Gallery is located at 175 NW 23rd Street in the Wynwood Arts District in Downtown Miami.
Photos courtesy of Robert Fontaine Gallery, Miami