Article by Shana Mason
In the global cultural imagination, Miami doesn't immediately come to mind as a destination for the summer. Too hot, too empty, and still too hot well until October or even November, right? Wrong.
The Wynwood Arts and Miami Design Districts hosted their monthly contemporary art smorgasbord known asSecond Saturday this past weekend. Notably, the exhibitions on view were as well-presented and intellectually stimulating as those constructed for the discerning crowds during Art Basel Miami Beach. More importantly, this particular Second Saturday demonstrated that the quality of Miami's galleries and their respective programs have not diminished during a non-seasonal period. In point of fact, specifically in the last two years: they never lessened at all.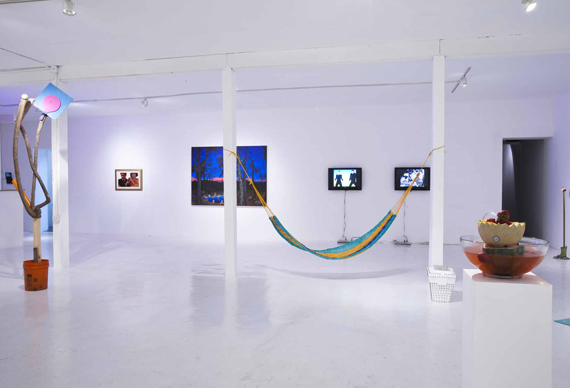 Installation view, 'Mayami Son Machín'
Courtesy of Gallery Diet, Miami
'We decided to hold our openings on an earlier night, but this doesn't mean that we're not excited about Second Saturday,' said Gallery Diet director Nina Johnson, 'it's a different crowd, but we love the diverse viewer base.' Her space was filled with multimedia works organized by Guatemala City-based Proyectos Ultravioleta in a show cleverly entitled 'Mayami Son Machín' (referring to three individual words roughly translating into ideas regarding Miami as a tourist/immigrant destination, the undertones of Latin music in a sexualized context, and the changing modes of Latin masculinity. Of course, Gloria Estefan's band is the phonetic reference.)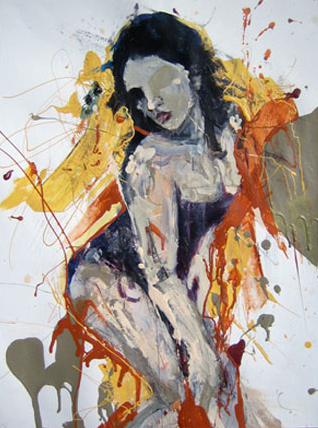 Jorge Chirinos Sanchez 'Untitled' (2011)
Mixed media on paper
Courtesy of Black Square Gallery & CS Gallery, Miami
Next door at the Black Square Gallery, director Anna Milashevych presented new paintings in collaboration with the CS Gallery (North Miami) from their director Jorge Chirinos Sanchez's solo show 'Twenty Eight.' Sanchez displayed a raw, sensuous energy in his portraits which seemed to reveal a fashion-inspired sensibility: a reflection of beauty delivered frantically through the paint.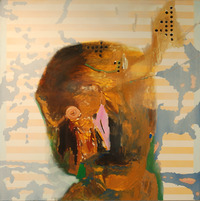 Joseriberto Perez 'Birdman' (2011)
Acrylic and oil on canvas
Courtesy of Butter Gallery, Miami
A steady stream of viewers filed into the Butter Gallery, directed by local favorite Francisco 'Paco' de la Torre. Joseriberto Perez's solo effort, 'Which Way Is Up?' gave off a quiet, almost Minimalist vibe with his abstract compositions. Perez's technical skill is easily visible (which might have something to do with his first-class training at the Art Institute at the University of Chicago). Neatly presented and thoughtfully executed, Perez's generously layered surfaces was pleasant and powerful all at the same time.
The Fredric Snitzer Gallery hosted a nostalgic tribute to, arguably, the father of installation art Kurt Schwitters and the revolving project inside his family home known as the Merzbau. A veritable Dada-ized exhibition space, Schwitters and his colleagues reworked Merzbau over a decade (1923-33) until it was destroyed by the Allied bombing raids in 1943. Snitzer's own artists including Michael Vasquez, Bert Rodriguez and José Bedia imagine a new creative space in 'Merzbau – Now.'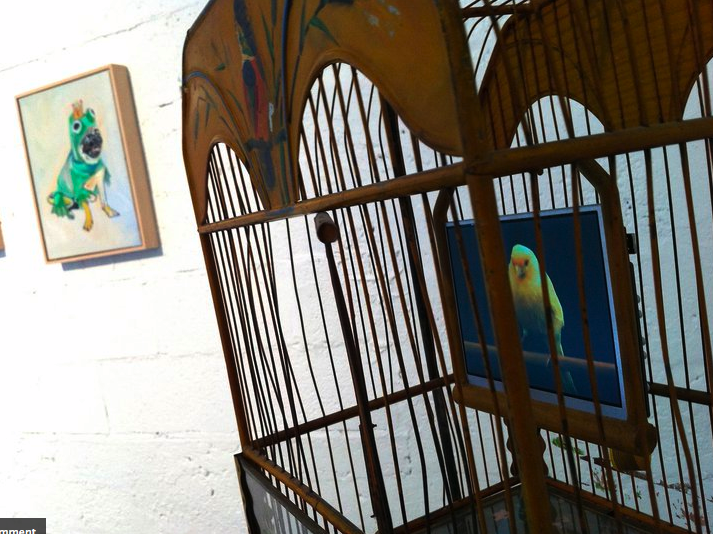 Installation view (Mette Tommerup and Troy Abbott) 'Home: Dream Home'
Courtesy of Praxis International Art, Buenos Aires/New York/Miami
Orchestrated by Praxis International Art and local filmmaker Grela Orihuela, 'Home: Dream Home' was part fun-house, part haunted-house in a rich tapestry of works identifying, problematizing and reconciling the concept of the ideal living space. Ably populating the large warehouse were works from locally-celebrated artists who collaborated to create a home, which is pointedly meant to feel not so cozy.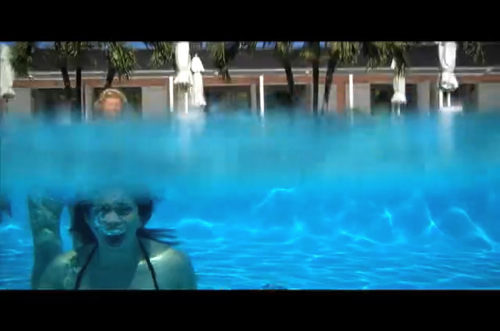 Antonia Wright 'I Scream, Therefore, I Exist' (2011)
Film still Courtesy of Dorsch Gallery, Miami
One last note is for the Dorsch Gallery's closing night of 'Noise Field,' curated by former assistant director Annie Hollingsworth. As usual, the hypnotic vibe of past Dorsch shows pervaded the space with works that crossed, violated and submitted to the borders of discernible language and communication methods all at once. Using light, film, painted, drawn and installation works to transmit ideas about speaking, reading and signing, the exhibition held on tightly and didn't let go until the doors closed at 10pm.