THE FRIEZE ART FAIR LONDON 2009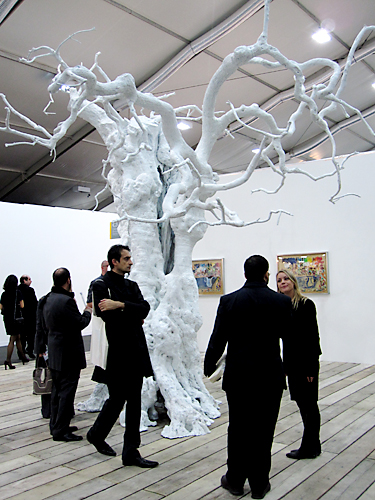 Every year during the month of October Regent's Park, London becomes home to the Frieze Art Fair. Now in it's seventh year, the show featured 165 of the most prestigious contemporary art galleries from around the world. In addition to these exhibitors the Fair also includes specially commissioned artists' projects, program of talks, and film projects, many of which are interactive and encourage visitors to engage with the art and artists directly. With over 60,000 people passing through the temporary white tent at Regent's Park; The Frieze Art Fair has quickly become the art event to "see and be seen" at in London.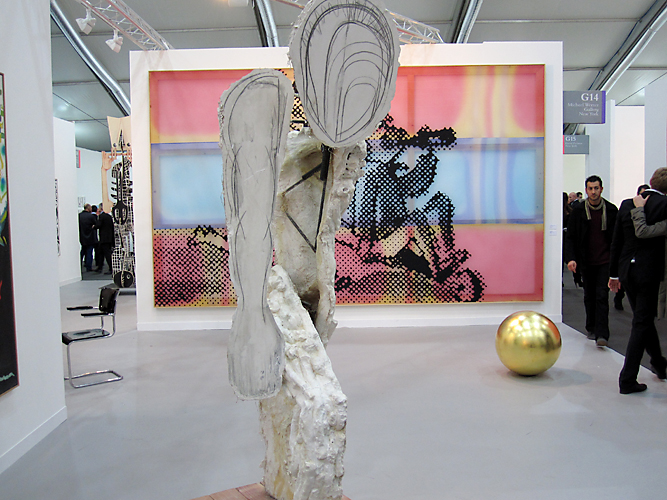 A few of this years exhibitors included works by Louise Bourgeois, selected work, The Couple, 2003, is the largest in a series of hanging aluminum sculptures by the artist. Eva Rothschild, showing a new work created specially for Frieze Art Fair, Someone and Someone, 2009. One of the highlights included a parasitic workshop created by Stephanie Syjuco; where a small group of artists created bootleg copies of other works exhibited at the fair within full view of the visitors. The copies were then displayed in an adjacent gallery stand. All in all it was an exciting affair, and we await the arrival of October 2010 to see what next year's Frieze will have in store for us.
XXXX MAGAZINE creative director, Indira Cesarine, attended the opening of Frieze with XXXX Magazine contributor Sabine Roemer and film producer Beverly Camhe.