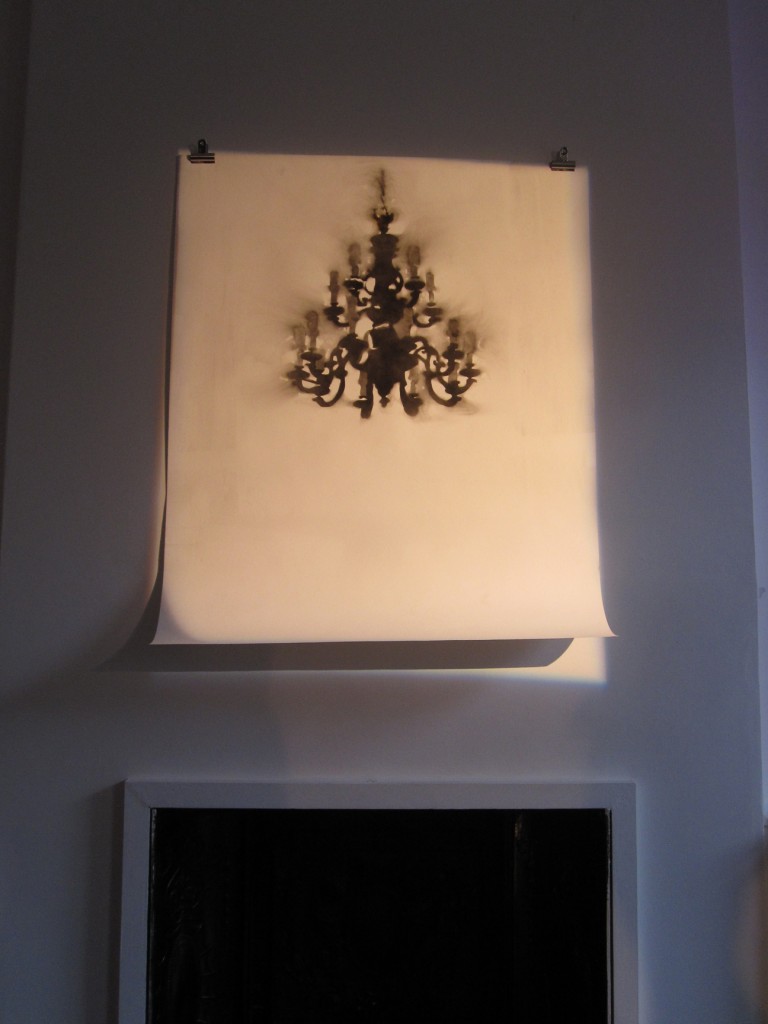 GAZELLI ART HOUSE – THE ELEMENTS 2011
Throughout 2011 Gazelli Art House presented a five part thematic series of exhibitions based on the "five classical elements of Fire, Earth, Water, Air and Ether". The first two exhibitions, "Fired Up" and "Down To Earth", revolved around the elemental themes of Fire and Earth, while "Still or Sparkling" examined "Water in all its mercurial beauty is the starting point for our artists as they examine the intuitive emotional qualities associated with water and the special place it was believed to inhabit between air and earth in classical symbolism." Each individual show takes place in a different, independent venue with the aim of encouraging viewers to interpret art in a bespoke space removed from the typical "white cube" exhibition space of the conventional art gallery. To this end, Gazelli Art Houses' Director, Mila Askarova, presents her viewers a unique experience. Mila Askarova is an internationally prominent figure in the art industry, having worked at Sotheby's, curated exhibitions in Baku and Istanbul, studied Collecting Contemporary Art, Independent Curating and Art Business at Central St. Martins and Christie's Education and co-ordinated the Azerbaijani pavilion at the Venice Biennale, 2011.
Set over two floors of an elegant Georgian town house in Belgrave Square, "Still or Sparkling" showcased a range of artists whose creative diversity produced a spectacular display of works examining the "intuitive emotional qualities associated with water.'' Artists featured in the group exhibition included Kyung Woo Han, Henry Krokatsis, Mike Calway-Fagen, Hyo Myoung Kim and Noguchi Rika. Gazelli Art House had selected the perfect space for the exhibit. The venue presented spacious, light and airy rooms with ornate fireplaces, large bay windows and worn wooden floorboards into which an eclectic mix of works were flatteringly exhibited.
Guests were enchanted by the work of Henry Krokatsis whose distinct pieces, 'Leaded Windows' and ghostly gossamer-like smoke paintings, caught the attention of every viewer for their originality. His sculptural glass piece, "Leaded Windows," constructed from reclaimed and re-worked glass conjured a mystical quality. Redolent with spiritual symbolism, when lit up, the sculpture reflected beautiful, stained glass window like shafts of light around the room. As Mila Askarova, the exhibition's curator sated: "Krokatsis conjures up both a magical and spiritual quality from re-working these aged materials into deceptively familiar objects such as leaded glass windows."
Another highlight of the show was Kyung Woo Han's installation, "Green House," which, having been built from chairs and tables placed in unnatural positions, appeared to float in mid-air. The installation made the room look very surreal; as though it had been half-submerged and turned into a pool of floating and distorted objects. Filling the whole room, guests were able to walk amongst the floating objects and immerse themselves in the fantastical scene.
Noguchi Rika exhibited a suite of ethereal new works titled "Maruba", created with a pin hole camera technique. She uses light to evoke dreams of flying and space travel in her first London exhibition. Rika's dreamy and sublime stripped-down images are evocative of watercolours and emotionally owe a direct succession to the works of the 19th century Romantic painters.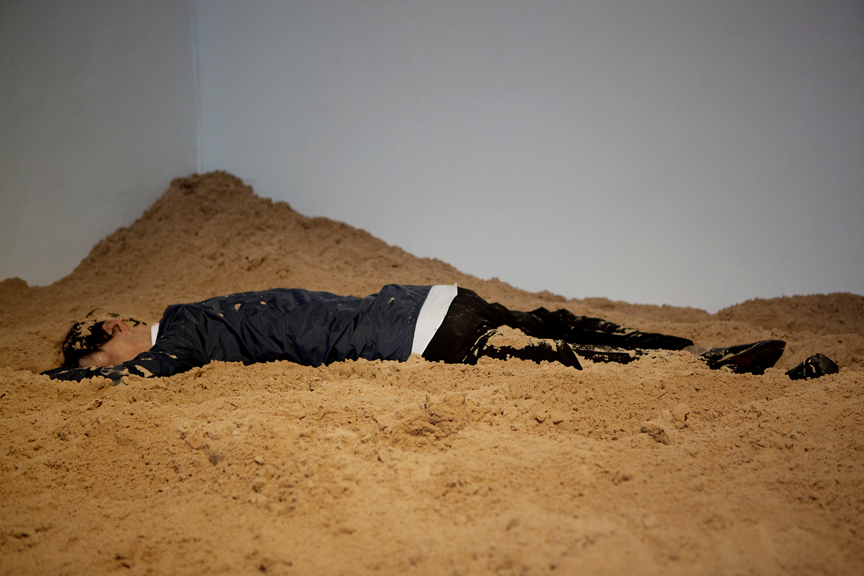 In contrast to the beauty evoked in Rika and Woo Han's pieces, Mike Calway-Fagen's installations were both humorous and quietly disturbing. Featuring taxidermy and subverted found objects, he aimed to provoke the viewer into building their own story of interpretation. Works on show included "Progression of Regression" which featured a taxidermy Alsatian at rest on the flattened and skinned pelt of a wolf. He also presented a 'ghost' installation derived from objects found in and around Belgrave Square. These secret items were placed around the study in situations and places where their weight left an impression, for example on the carpet. Over the course of the exhibition period the clarity of these impressions and the record of their existence would fade from view. Finally, Hyo Myoung Kim presented chromo-photographic works from his series of light and sound-sensitive digital works. Having only recently graduated from the Slade MFA programme, Hyo's work certainly came into prominence in Gazelli's show. One key observation to take from the exhibition was the extent to which each artist had worked in dialogue with the elemental theme to produce individual and diverse works. The range of artistic methods and conceptual ideas showcased were all individually inspiring.
The penultimate exhibition in the series, "Air I Breathe", opened on August 24th at the Rochelle School in London. The exhibition celebrated the "contradictory nature of this most divine and pure substance" by looking at the work of five ambitious artists. The exhibition's location was kept under wraps until the night of the opening reception when Gazelli's confidantes sauntered into the Rochelle School in London for a private viewing of the exhibit. This time, the creative inspiration behind the show came from the elemental qualities of air. The venue certainly offered limitless possibilities to the show's artistic talent. Set across two airy, high-ceilinged floors with expansive windows offering an influx of natural light into the exhibition space, the school provided an ideal space for a show grounded upon installation based sculpture.
According to the Art House, Air is "seen as both superficial and representing the intelligence of the soul, Air was also believed to own the twin properties of heat and moisture in ancient Greek medicine and was associated with blood as one of natures 'humours'." Although presenting a mouthful of information to fathom, with all things said and done previously, the exhibition succeeded in providing its viewers with an intriguing collection of works by both established and emerging artists who, for the first time in the series constructed site-specific installations.
Mila Askarova, CEO and founder of Gazelli Art House, curated the show with the aim of it being 'at turns provocative and simply beautiful.' As she stated, 'Air I Breathe will be a thoughtful counterpoint to our usual concept of what a commercial gallery exhibition can be.'
Among the artists exhibiting their works in the collaborative group show were Craig Little and Blake Whitehead who have worked together under the title of Littlewhitehead since their academic years at the Glasgow School of Art in 2007. With an artistic track record of producing a simultaneous blend of provocative and humorous works, which have, in the past, fixed them a solid place amongst the Saatchi Gallery's greats, guests had high expectations. 'We want to beat you up visually' is the phrase that Littlewhitehead use to describe their desired reaction to their work. 'Beat us up' they certainly did with an installation piece of a hyper-real figure of a man's corpse lying on a pile of 'gyrating sand.' Playing with illusions of reality, Littlewhitehead's piece provoked its viewers with feelings of curiosity and uneasiness. After a few moments, however, the piece does become, perhaps wrongly, amusing.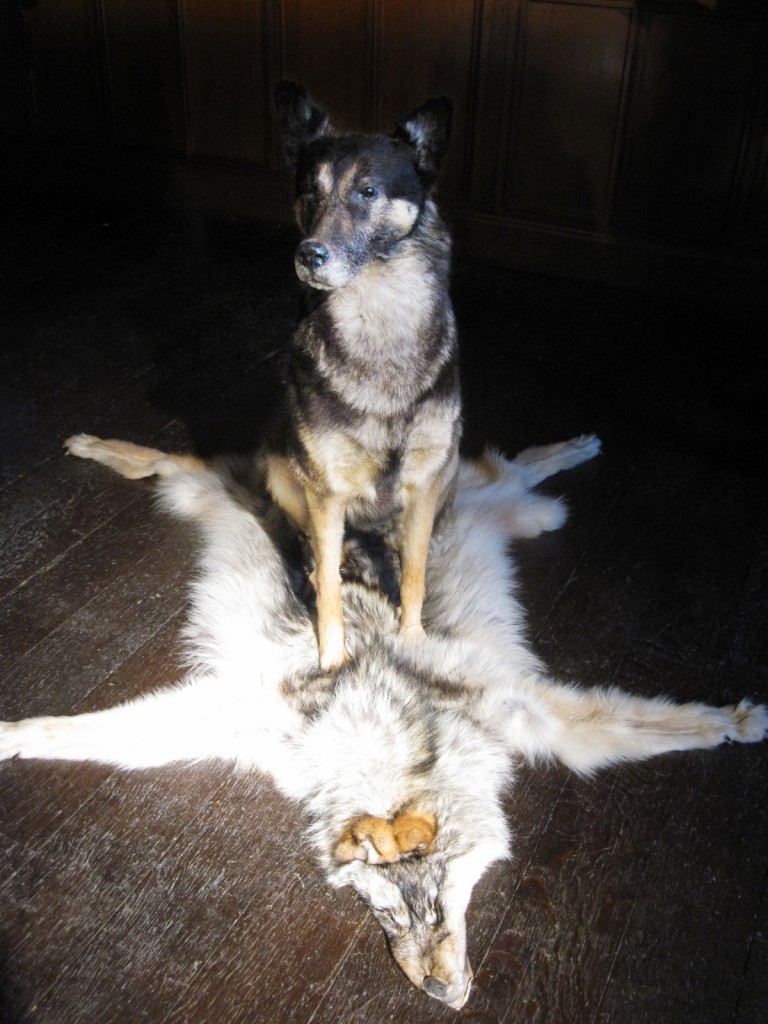 Each artist responded to the show's conceptual source in an individualistic way, offering a diverse display of works and ideas. Reputed for being the first sound artist to exhibit in the Saatchi Gallery, John Wynne's sound installation was certainly the highlight of the show, providing resonating sounds of high and low frequencies throughout the exhibition space making guests aware of the 'air' around them at all times. John has a PhD from Goldsmiths, his award- winning work has been exhibited and broadcast widely around the world. Kate Terry's intricately constructed thread installation dramatically transformed the same space into a visually rich scene that echoed and complimented Wyanne's reverberating sounds with an appearance sprung from harp strings. On the floor below, Yoonjin Jing showcased oriental-inspired paintings and wall sculptures alongside a flickering light installation piece that tricked its viewers into different modes and degrees of 'seeing.' 'Yoonjin attempts to aid the viewer to an appreciation of the 'unseen' and to stimulate a discovery of what lies between the fragile boundary of invisibility and the visible.'
Underlying each piece was the sense of how each work both responded and interacted with the air, whether through the use of sound light or movement, the exhibition's airy space was successfully played upon.
Gazelli Art House presents its five-part exhibition series in order to offer an introductory insight into the work of the Gallery, which will establish itself as a permanent gallery space in London in 2012. In an interview on Gazelli Art House, Askarova stated: 'Gazelli Art House, a new approach to commercial art organisation, was found on the premises of providing a new setting for the understanding and creation of art.' We look forward to viewing the final part of the inaugural series, 'Bodhi' and to the opening of the exhibition space in June next year.