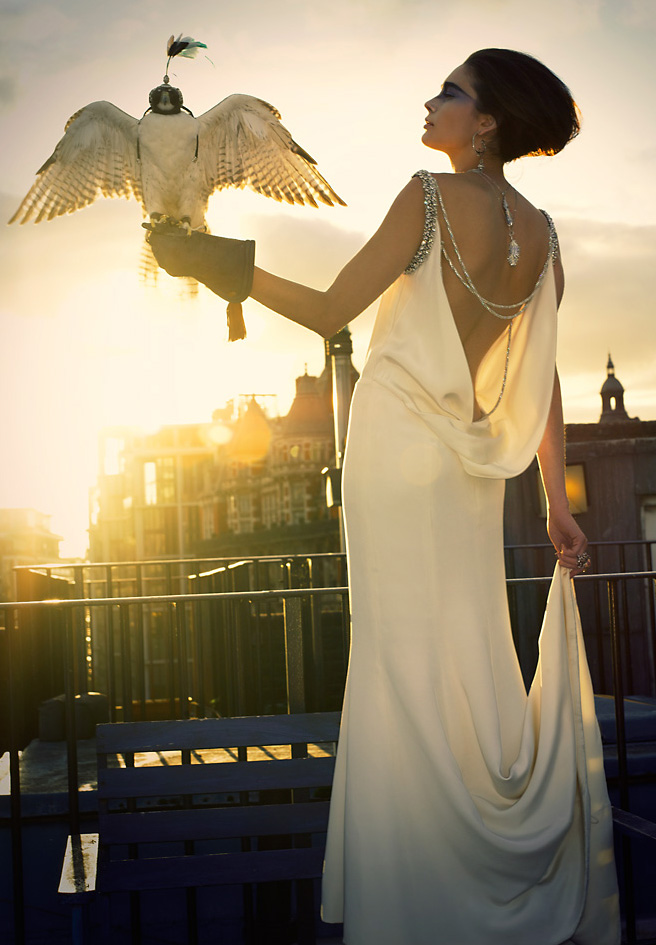 SABINE ROEMER, THE BEST KEPT SECRET
Jewellery artist, Sabine Roemer, is one of the best kept secrets in luxury bespoke jewellery. Each piece is meticulously hand crafted using the timeless techniques of a trained goldsmith, with intricate and delicate details that demonstrate a true perfectionist.
Sabine chose her path from an early age, training and exploring the craft from just 15 years old. Seven years later, she graduated as the youngest female Masters student from Germany's Pforzheim Goldsmith and Watchmaker school. Sabine's work is inspired by nature and her surroundings. Every part of her life brings something new to each design. Whilst running through a park, her mind will find inspiration and see a bespoke piece of jewellery, or a beautiful sculpture come to life from the most unexpected, mundane objects that most of us choose to ignore.
The discerning goldsmith, Sabine's jewellery is decadent and attention grabbing with a thick patina of 18 carat gold. Each piece in her first bespoke collection, Arabian Nights, details her love for animals and their folkloristic ornaments. The main inspiration of the collection comes from Sabine's childhood memories of the fauna that populated the stories of Arabian Nights that her grandmother used to read her. The Shahryar Falcon Hood, a black leather hood in 18 carat white gold with pave diamonds and large centre-piece emeralds, is a stunning work of art to represent the majestical properties of the Falcon. The Scheherazade Horse ring in 18 carat gold decorated with white and black diamonds, pink sapphires, green tourmalines and rough diamonds; and the Parizade Camel Ring in 18 carat gold with white pave' diamonds, rubies, pink tourmaline and green peridots both form miniature sculptures to be worn and adored.
Whilst the organic and holistic premise of 'nature' is prevalent in each piece, particularly in the Arabian Nights collection, Sabine has an acute desire to add 'laughter' to her designs. She cannot simply create something beautiful, it needs to have life and it needs to make the viewer appreciate the complexity of the craft but also delight in the pieces. She is determined to take the reverence away and make luxury jewellery and art feel fun, charming and engaging.
In a world of diamonds and gold, where it is easy to become swept away by bejewelled luxury, it is refreshing to come across Sabine's low-maintenance glamour.
In 2010, Sabine led an expedition to the Himalaya's for an artistic collaboration with local traditional craftsmen in the Ladakh area. However, this trip unfortunately coincided with the Pakistan floods. Caught in landslides, the team raced against forces of nature, sleep deprived and panic-stricken, for four days until reaching Kashmir and finding air transportation. Throughout the journey, the team were overwhelmed by the level of support and generosity bestowed upon them which only heightened their determination to help those who supported them by founding the 'From You With Love' charity. Sabine designed the 'From You With Love' bracelet from which proceeds will help orphans and vulnerable children in the Ladakh area.
The trip to Ladakh mirrored an earlier visit to the Kalahari desert in 2010. Sabine's passion for original, organic craftsmanship led her desire to collaborate with local bushmen in support of the local trade. Together, they created a collection of jewellery using a combination of original and modern techniques. The pieces are now available at Dover Street Market and Browns.
These are just some of many philanthropic projects that Sabine is passionate to support. For the past five years, Sabine has collaborated with the Nelson Mandela Foundation, creating unique, one-off pieces for auction, one of which is the jewelled sculpture of Mandela's hand that Morgan Freeman bid for in 2009. Freeman, went on to commission a diamond and emerald set 46664 bangle (Nelson Mandela's prison number ) which he wore when attending the Oscars as a nominee for his role in Invictus. After the red carpet, Freeman wore the piece on The Jay Leno Show before it went to auction at the South African Football World Cup.
Not one to stand still, Sabine has recently travelled to Edinburgh to support The Elephant Family Charity by unveiling a unique hand-painted Hornbill sculpture, for auction, finished with a hand crafted sterling silver mask set with feathers, pearls and a 383 carat ruby. The next stop was Milan to finish her piece for the 2011 Elephant Parade – the world's largest open-air art exhibition. Each year, the Elephant Parade is hosted in different countries across Europe, this year taking place in Milan and Singapore to raise awareness for the Asian elephant. In 2010, the London exhibition featured Sabine's 'Emerald Queen' in Selfridges.
Sabine's remarkable ability to bridge creativity and philanthropy is her gift to the world. Her love for nature moves her in multiple directions, with her intricate craftsmanship and attentive eye for detailing. Her art gives so much more to the viewer. Her designs are one's to watch and wear.
Article by Mia Grewel for The Untitled Magazine
Jewelry By Sabine Roemer, Dress by Ralph and Russo
Photography by Indira Cesarine