CHLOE RECEPTION TO BENEFIT NEW YORKERS FOR CHILDREN
Last Wednesday, March 9th, Chloé opened the doors of their Madison Avenue boutique for a private cocktail reception to benefit the charity New Yorkers for Children (NYFC) which aids foster children in NYC. Susan Shin, Marisa Brown, Alina Cho, Maggie Cordish, Cristina Greeven Cuomo, Nicole Esposito, Dayssi Olarte de Kanavos, Julie Macklowe and Hilary Rhoda hosted this cocktail event in conjuction with Chloé's pledge to donate 10% of their sales from March 9-12 to this charity, as Chloé is a sponsor of the NYFC Spring Dinner Dance. This relaxed yet refined evening brought together the fashion world for a cause that helps to provide foster children with scholarships, tutoring, job training, and the necessary supplies to complete their studies.
With champagne in hand, guests were treated to a preview of Chloé's Summer 2011 ready-to-wear collection. In this line, head designer Hannah MacGibbon utilized soft chiffon and ballerina style to create her latest collection for summer that stays nice and cool in its minimalism and almost exclusively neutral palette.
Guests included Katie Lee, Christian Cota, Ann Dexter-Jones, Nicholas Scoppetta, Susan and Tony Gilroy, Ashley McDermott, Ariel Meredith, Derek Anderson, Steve Speaks, Lesley Schulhof, Adelina Wong Ettelson, Clare McKeon, Toneya Bird, Donya Bommer, Tatiana and Campion Platt, Lauren Shortt Pinto, Martin Dessoffy, and Natalia Echavarria.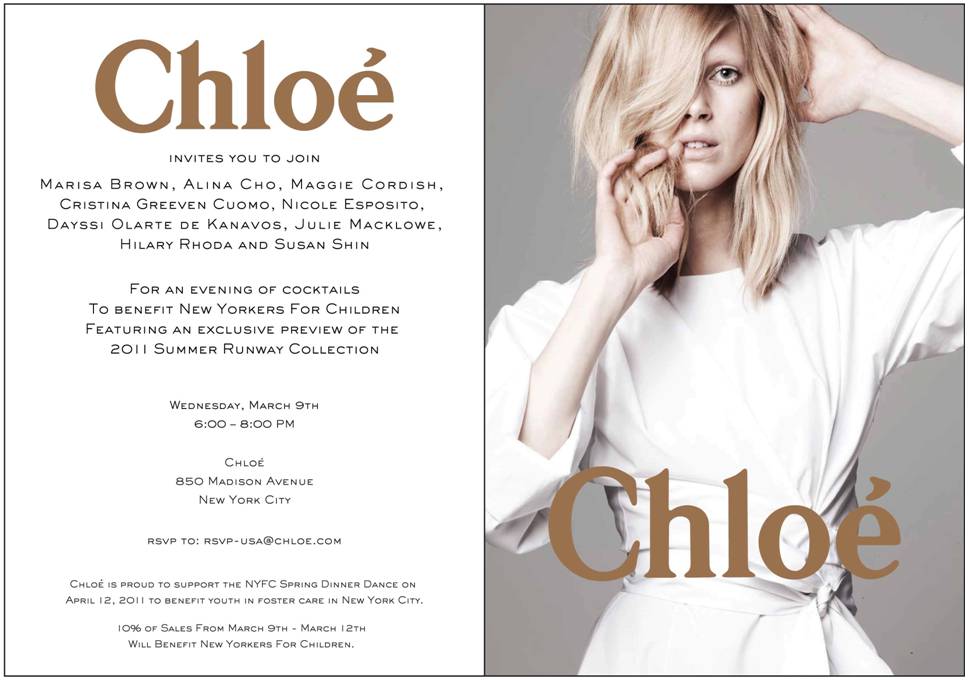 Photos by Brit Cato for XXXX Magazine